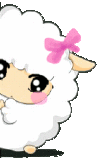 hehehe~ I know.. FINALLY I'm back~ sorreee~
First of all.. I'd like to apologise as I have been missing for a month~ hehehe..

the common excuse would be busy with my studies and assignment, but I will admit that I was lazy and was not in the mood to blog too. It might be due to my inactivity~ nothing much happened.. did the same usual stuff daily.
But I will giv a little update of myself in this post *wink*
p/s: There won't be constant updates in my blog, as my finals are just around the corner.. but I promise that there will be more once I'm done with my finals! ;)
XOXO~